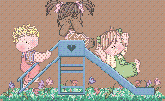 About Sachse Child Care
I provide quality childcare in a loving home for children ages 6 weeks to 4 years of age.
Children learn through play and I provide many opportunities for them to "discover" things about the world that they live. Children are very bright and need to be treated as social little individuals who have much to share. Each child brings a new and exciting personality to my daycare and I try not to stifle their personality, but to nurture and help them socialize and guide them in areas that they need assistance.
As a family child care provider, my goal is to provide a safe and happy place for children where they can learn and grow physically, emotionally, intellectually and socially at their own pace. I believe children learn through play and benefit from a structured yet flexible schedule. Activities will be offered which stimulate sensory motor development, language development and social interaction. The development of strong self-esteem is also a major goal. Children will be taught to respect each other, adults and property.
I offer a Daycare setup without the costly center prices, plus your child will recieve the personal and individual attention they deserve that may not always be possible in large center.
Children learn by:
Hands-On and Teacher Directed activities.

Repetition

Encouragement and Love

Creative Learning Atmosphere

Through their Senses

Alternating Activities From Quiet to Active Times

With Lots of Patience and Understanding
***We use Hooked On Baby Learn To Sign from the creators of Hooked on Phonics***
I participate in the USDA Food Program. You can be assured that your child's nutritional needs will be met per the regulations of the Program. I am reguarly inspected by the Food Company to make sure childrens nutritional needs are being met.
Kids are kids, and to be kids they have to play, to play they get dirty, getting dirty means they had fun, whey they have fun they are happy, when they are happy I have done my job.
Children are the living messages we send to a time we shall not see."
Quality childcare isn't expensive...
It's priceless